Review: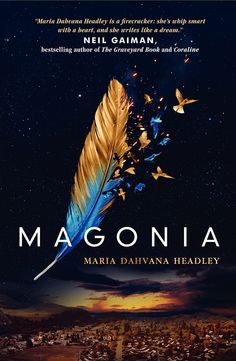 Magonia by Maria Dahvana Headley
Hardback, 309 pages
Published by HarperCollins
Publication Date: April 28, 2015
Rating: 5/5 stars
Available on: Amazon/Barnes & Noble/Book Depository
---
Synopsis: Aza Ray is drowning in thin air.
Since she was a baby, Aza has suffered from a mysterious lung disease that makes it ever harder for her to breathe, to speak—to live.
So when Aza catches a glimpse of a ship in the sky, her family chalks it up to a cruel side effect of her medication. But Aza doesn't think this is a hallucination. She can hear someone on the ship calling her name.
Only her best friend, Jason, listens. Jason, who's always been there. Jason, for whom she might have more-than-friendly feelings. But before Aza can consider that thrilling idea, something goes terribly wrong. Aza is lost to our world—and found, by another. Magonia.
Above the clouds, in a land of trading ships, Aza is not the weak and dying thing she was. In Magonia, she can breathe for the first time. Better, she has immense power—and as she navigates her new life, she discovers that war is coming. Magonia and Earth are on the cusp of a reckoning. And in Aza's hands lies the fate of the whole of humanity—including the boy who loves her. Where do her loyalties lie?
---
Oh, Magonia, you tore me to pieces, built me back up, and tore me down once again. After completing this book, two thoughts came to mind: Where has this book been all my life?!? and Oh, Magonia, what have you DONE to me?!?
The book was captivating from start to finish! I have never read a book like this. The premise, setting, characters . . . everything was like a breath of fresh air.
.Many people struggled reading Aza's narrative, but I found it to be really entertaining and witty! Personality-wise, she is sassy and gutsy and I found slipping into her mind, effortless. Also, I absolutely loved her character development! She progressed into a strong, independent woman who fought for what she believed in.
My favorite thing about the book is the setting! The setting was dreamy and wonderful, but I loved the raw portrayal of it. Headley introduced such a gorgeous, foreign setting. Everything was described vividly from the talking birds to flying ships in the sky. It's so peculiar, I couldn't get enough! The world building was just absolutely fantastic!
I can go on and on describing my love for this book, but instead of spending your time reading what I would've wrote, I'd rather you spend it going out and buying the book! Read it, love it, cherish it! I hope you all enjoy this story as much as I do!
Until next time,