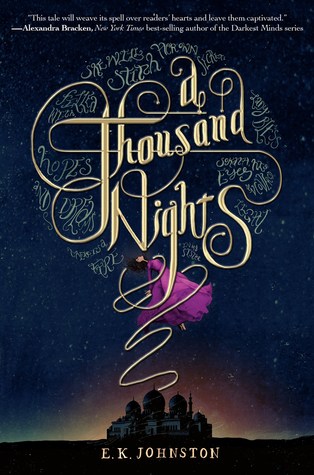 A Thousand Nights by E.K. Johnston
Hardcover, 328 pages
Published by Disney Hyperion
Publication Ddate: October 6, 2105
Rating: 4/5 stars
Available on: Amazon/Barnes & Noble/Book Depository
---
Synopsis: Lo-Melkhiin killed three hundred girls before he came to her village, looking for a wife. When she sees the dust cloud on the horizon, she knows he has arrived. She knows he will want the loveliest girl: her sister. She vows she will not let her be next.
And so she is taken in her sister's place, and she believes death will soon follow. Lo-Melkhiin's court is a dangerous palace filled with pretty things: intricate statues with wretched eyes, exquisite threads to weave the most beautiful garments. She sees everything as if for the last time. But the first sun rises and sets, and she is not dead. Night after night, Lo-Melkhiin comes to her and listens to the stories she tells, and day after day she is awoken by the sunrise. Exploring the palace, she begins to unlock years of fear that have tormented and silenced a kingdom. Lo-Melkhiin was not always a cruel ruler. Something went wrong.
Far away, in their village, her sister is mourning. Through her pain, she calls upon the desert winds, conjuring a subtle unseen magic, and something besides death stirs the air.
Back at the palace, the words she speaks to Lo-Melkhiin every night are given a strange life of their own. Little things, at first: a dress from home, a vision of her sister. With each tale she spins, her power grows. Soon she dreams of bigger, more terrible magic: power enough to save a king, if she can put an end to the rule of a monster.
---
Right after finishing this book, I gave it a 3.5 star rating. Now that I have mulled it over, I've bumped it up to a 4 star rating.
A Thousand Nights E.K. Johnston is a re-imagining of A Thousand and One Nights. To be completely honest, I have never read A Thousand and One Nights and I should have probably read a synopsis of it, but I didn't. I am glad I didn't thought because I feel that I would've ended up comparing the two and it may have altered my opinion.
I really liked the beginning of the story and the premise of the book was fantastic! I was immediately drawn to the book because of the cover, and the premise made it all the more intriguing. It's about a ruler, Lo-Melkhiin who picks a bride from a village and kills her. Shortly after, he goes to the next village seeking another bride. He killed three hundred girls before he went to the protagonist's village. Obviously, our antagonist has some issues…Turns out he has a demon in him(*This technically isn't a spoiler because you find this out in basically the first few chapters).
Another thing I really enjoyed was how well written the sisterly bond was. You can feel the love the protagonist feels for her sister, and I was moved how the protagonist so willingly risked her life so her sister had the chance to live. Rather than emphasizing romance in the story, Johnston put sisterly love in its place.
I found the language/writing style was a bit difficult to read only because it was so foreign to me. It may be hard for other readers to read this book as well, if they're used to books with a lot of dialogue because the book was mostly told through our heroin's thoughts. I have never encountered writing like that. However, I did love the vivid imagery Johnston provided. It complimented the world-building (which was awesome) very well.
Although all characters besides Lo-Melkiin are nameless, the characters still have distinct personalities. The protagonist is referred to as lady-bless, sister, etc., and minor characters are referred to as weaver, daughter, father, etc. Their anonymity is so muted, I didn't even notice they were nameless until I read Emily May's review. I loved how she pointed out that this is a story about the overlooked, the unnamed, and the anonymous.
I'm not saying  A Thousand Nights is an my favorite book ever because I admit, it's a slow-paced story. I will say that I ended up enjoying it more than I thought I would. It is a very thought-provoking literary work. It is very complex for a YA novel.
If you're looking for an action packed, romantic love story, this isn't the book for you. However, if you're open to a character-driven story with loving sisters that is, as Khanh states, basically a subtly feministic masterpiece, this book is for you!
Until next time,