Review: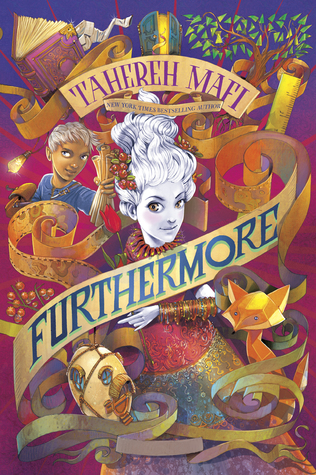 Futhermore by Tahereh Mafi
Paperback ARC, 403 pages
Published by Dutton Books for Young Readers
Publication Date: August 30, 2016
Rating: 5/5 stars
Pre-Order it: Amazon | Barnes&Noble | Book Depository
---
There are only three things that matter to twelve-year-old Alice Alexis Queensmeadow: Mother, who wouldn't miss her; magic and color, which seem to elude her; and Father, who always loved her. The day Father disappears from Ferenwood he takes nothing but a ruler with him. But it's been almost three years since then, and Alice is determined to find him. She loves her father even more than she loves adventure, and she's about to embark on one to find the other.

But bringing Father home is no small matter. In order to find him she'll have to travel through the mythical, dangerous land of Furthermore, where down can be up, paper is alive, and left can be both right and very, very wrong. Her only companion is a boy named Oliver whose own magical ability is based in lies and deceit—and with a liar by her side in land where nothing is as it seems, it will take all of Alice's wits (and every limb she's got) to find Father and return home to Ferenwood in one piece. On her quest to find Father Alice must first find herself—and hold fast to the magic of love in the face of loss.
Furthermore is fantastic. Tahereh Mafi's writing is so alluring, I was captivated from start to finish. Her metaphors and vivid imagery had me hanging on every word, salivating.
While reading Furthermore, I found myself reminiscing Harry Potter. Not because of similarity between storyline (there is no similarity whatsoever [none that I found, anyway]), but the feeling I had while reading. I felt whimsical and thrilled, airy and adventurous. The writing was beautiful, sometimes I found myself holding my breath whilst reading.
I loved  that it's told in second person, the narrator is hilarious and I loved their quirky side comments. Also, Alice's character is so adorable! I freaking loved her! She absolutely blew my mind with her sass and wit. Oliver is so enthusiastic and open-minded. They're both unique as individuals, but together they're fantastic. Reading about the pair of them was such an enjoyable experience, even though a lot of the book was simplified for the sake of middle grade readers. It was touching, reading about how Oliver and Alice's friendship blossomed after they overcame obstacles together. Their character development also progressed really well, and I'm really glad that the characters I fell in love with at the beginning of the book, weren't lost throughout the story.
This is the first ARC I've ever received, so I wasn't sure what to expect. I was pleasantly surprised. For an uncorrected copy of a book to be this good, is very impressive, although I expect nothing less from the queen, Tahereh Mafi.
Overall, I gave this book 5/5 stars because I enjoyed it very much. I recommend this to all of you!
Until next time,