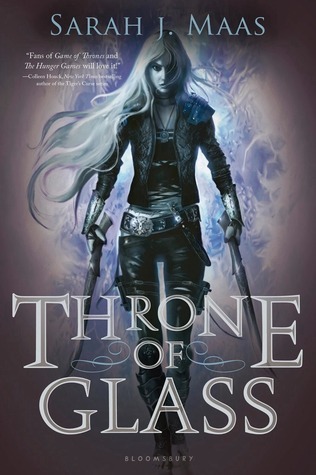 Review:
Throne of Glass by Sarah J Maas
Paperback, 404 pages
Published by Bloomsbury USA Childrens
Publication Date: May 7, 2013
Rating: 4.5/5 stars
Available on: Amazon/Barnes & Noble/Book Depository
---
Summary:
In a land without magic, where the king rules with an iron hand, an assassin is summoned to the castle. She comes not to kill the king, but to win her freedom. If she defeats twenty-three killers, thieves, and warriors in a competition, she is released from prison to serve as the king's champion. Her name is Celaena Sardothien.
The Crown Prince will provoke her. The Captain of the Guard will protect her. But something evil dwells in the castle of glass–and it's there to kill. When her competitors start dying one by one, Celaena's fight for freedom becomes a fight for survival, and a desperate quest to root out the evil before it destroys her world.
---
So, I recently went to Sarah J Maas' event for A Court of Mist and Fury without reading any of her books. My boyfriend is currently reading the series, and he keeps ranting on how much he loves the books, so I decided to start it. I am so glad that I did.
I have been hearing so much about this series and I was a bit put off by the hype, hence why I had been holding off on reading it. Now that I have read it, I understand what the hype is all about! I enjoyed Throne of Glass immensely! It was full of action, wit, romance and magic.
I really liked the world building, and the characters were very well written. Throughout the book, I became extremely invested in the characters lives. I loved learning little bits of their background and grew to care for them. They felt very real to me.
I loved Celaena's character! Celaena Sardothien is extremely well known assassin that's been imprisoned at a death camp in the Salt Mines called Endovier, since she was 17. Although she was at a death camp, she still remained strong and stable. She doesn't let her past define her and I admire that. She's so sassy and witty. Her banter with Dorian and Chaol is laugh out loud funny. In the beginning of the book she seems a bit one dimensional, but throughout the book we read little snippets of Celaena's backstory and we learn there's more to her. I can't wait to learn more about her in the rest of the series.
I had a few problems with Throne of Glass though. Throughout the book, you constantly hear about what a bad-ass Celaena is, and it's mostly all talk. There's about two scenes that proved it. Hopefully that will improve in the next books. Additionally, I wish that the trials were more descriptive. I felt like they just glossed over it and then went straight to scenes with Chaol and Dorian. I wanted some action! I wanted there to be more focus on the trials and see her bad-ass in action.
Something I really enjoyed was the third person pov, it really provided a great insight on the characters. Aside from the two minor issues, I definitely enjoyed Throne of Glass and I will be reading the rest of the series. Have any of you read it? I'd love to hear your thoughts!
Until next time,