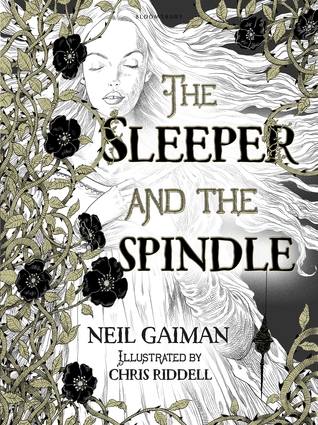 The Sleeper and the Spindle by Neil Gaiman (Author), Chris Riddell (Illustrator)
Hardcover, 69 pages
Published by Bloomsbury Publishing Plc
Publication Date: October 23, 2014
Rating: 2.5/5 stars
Available on: Amazon/Barnes & Noble/Book Depository
---
Synopsis: A thrillingly reimagined fairy tale from the truly magical combination of author Neil Gaiman and illustrator Chris Riddell – weaving together a sort-of Snow White and an almost Sleeping Beauty with a thread of dark magic, which will hold readers spellbound from start to finish.
On the eve of her wedding, a young queen sets out to rescue a princess from an enchantment. She casts aside her fine wedding clothes, takes her chain mail and her sword and follows her brave dwarf retainers into the tunnels under the mountain towards the sleeping kingdom. This queen will decide her own future – and the princess who needs rescuing is not quite what she seems. Twisting together the familiar and the new, this perfectly delicious, captivating and darkly funny tale shows its creators at the peak of their talents.
Lavishly produced, packed with glorious Chris Riddell illustrations enhanced with metallic ink, this is a spectacular and magical gift
---
This was my first time reading Neil Gaiman's work, and I am sad to say that it was mediocre for me.
The Sleeper and the Spindle is an illustrated short story that has Snow White and Sleeping Beauty inspired characters and elements. It had so much potential, but in the end I was unsatisfied. Especially because the story seemed to rely on a big twist that wasn't all that shocking , so it ended up falling flat.
Riddell's artwork is beautiful, and worked well with the story because it illustrated "hard to envision" scenes and characters. The illustrations were white and black with some gold here and there. Visually, the book was impressive. That's one of the few things I liked about the story.
Since it's a short story, the characters lack dimension and development so they ended up being meh. However, I really enjoyed the feminist aspect of the book- Prince Charming being a woman, and instead of the queen waiting for someone to solve the dilemma, she gets up and does it herself. I just wish the story was longer so there would be character development.
Overall, I really wanted to like this story, but I felt like it was missing something and just wasn't executed well. However, please keep in mind that just because I didn't enjoy The Sleeper and the Spindle, doesn't mean you won't either.
Until next time,