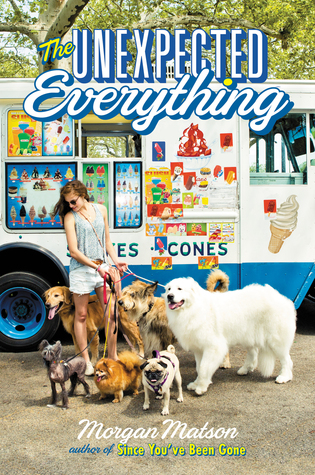 Hardcover, 519 pages
Published by Simon & Schuster Books for Young Readers
Publication Date: May 3, 2016
Rating: ★★★★ 4/4 stars
Available at: Amazon/ B&N / Book Depository 
---
Synopsis: Andie had it all planned out.
When you are a politician's daughter who's pretty much raised yourself, you learn everything can be planned or spun, or both. Especially your future.
Important internship? Check.
Amazing friends? Check.
Guys? Check (as long as we're talking no more than three weeks).
But that was before the scandal. Before having to be in the same house with her dad. Before walking an insane number of dogs. That was before Clark and those few months that might change her whole life.
Because here's the thing—if everything's planned out, you can never find the unexpected.
And where's the fun in that?
---
The Unexpected Everything by Morgan Matson was unexpectedly, everything one hopes for in a summer read. Ha ha see what I did there?  This was my Morgan Matson book, and I enjoyed it. A lot of books I've read this year have become my all time favorites and compared to those books, this book didn't blow me away. By itself, this book is a solid 4 stars for me.
I went back and forth listening to the audio book and reading the physical book. The story was slow during the beginning; thankfully, the audio book definitely helped to push through extra long scenes. The book picked up during the middle and from then on it was hard to put down. I listened to the audio book whilst driving, cooking, working, etc.
Something I really loved was how realistic the relationships and interactions were. The beginning stages of the characters "soon to be" friendships were awkward and funny and so real. Certain situations and scenes felt so genuine. The sympathy Matson fabricates around Andie is realistic and authentic. It doesn't feel forced. Like Emily May states in her review, it didn't matter to me, on the surface level, that Andie is a white, privileged narrator. I felt for her when her hard work collapsed all around her from factors outs of her control.
Overall, this book is sensitive and fun without overdoing it. The only issue I have is that it felt too long. I recommend all of you pick this up for a summer read. I thoroughly hope you all enjoy this book as much as I did, if not more, if you choose to pick this up.
Until next time,