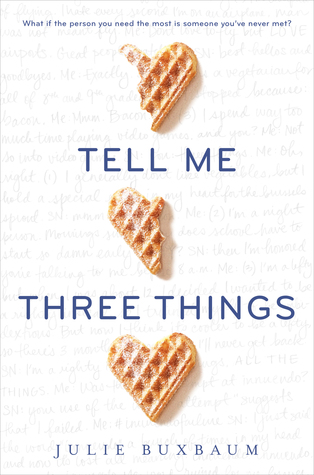 Hardcover, 336 pages
Publisher: Delacorte Press
Published: April 5, 2016
Rating: ★★★★ 3.5/5 stars
Available at: Amazon/ B&N/ Book Depository
---
Synopsis: Everything about Jessie is wrong. At least, that's what it feels like during her first week of junior year at her new ultra-intimidating prep school in Los Angeles. Just when she's thinking about hightailing it back to Chicago, she gets an email from a person calling themselves Somebody/Nobody (SN for short), offering to help her navigate the wilds of Wood Valley High School. Is it an elaborate hoax? Or can she rely on SN for some much-needed help?
It's been barely two years since her mother's death, and because her father eloped with a woman he met online, Jessie has been forced to move across the country to live with her stepmonster and her pretentious teenage son.
In a leap of faith—or an act of complete desperation—Jessie begins to rely on SN, and SN quickly becomes her lifeline and closest ally. Jessie can't help wanting to meet SN in person. But are some mysteries better left unsolved?
Julie Buxbaum mixes comedy and tragedy, love and loss, pain and elation, in her debut YA novel filled with characters who will come to feel like friends.
---
Let me start off by putting it out there that this review will be brief. After finishing the book, I rated it a 4.5/5 stars, but I've knocked it down to a 3.5 stars. Tell Me Three Things by Julie Buxbaum is… charming. However, I couldn't get past the LA stereotypes constantly mentioned and mocked in the book. They're extremely inaccurate, and a tad annoying. Maybe I'm being defensive because I'm an LA girl myself, but honestly, it was just so overdone. The first few times I smirked because yeah there are some people like that, but that's not just in LA.
I really did enjoy most of the novel. The friendships and characters were charming and cute and fun to read about. Although, I felt the "mystery guy" was super obvious and I felt like facepalming half the time when our protagonist doesn't see it. I do want to mention that although I did like the characters and their situations relatable, I didn't feel like they were that great of a portrayal of real life teens. That's an issue I have with a lot of YA fiction, the highschool life/teenage personalities are totally off. It's like thinking the teens in High School Musical and the way their highschool life is portayed are realistic, when in reality they're not.
In conclusion, I did like the novel, but I obviously had issues with it. My advice going into this book is don't take it too seriously and understand it's supposed to be light-hearted.
So, have any of you read Tell  Me Three Things? Thoughts, concerns, complaints, questions? Feel free to leave them down below. ❤
Until next time,