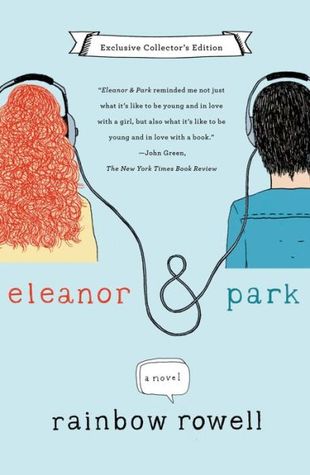 Hardcover, Exclusive Collector's Edition, 336 pages
Publisher: St. Martin's Griffin
Publication Date: June 2014 (first published February 26th 2013)
Genre: Young Adult, Contemporary, Romance, Realistic Fiction
Rating:  ★★★★★ 4/5 stars
Available at: Amazon/ B&N / Book Depository
---
Synopsis: Eleanor… Red hair, wrong clothes. Standing behind him until he turns his head. Lying beside him until he wakes up. Making everyone else seem drabber and flatter and never good enough…Eleanor.
Park… He knows she'll love a song before he plays it for her. He laughs at her jokes before she ever gets to the punch line. There's a place on his chest, just below his throat, that makes her want to keep promises…Park.
Set over the course of one school year, this is the story of two star-crossed sixteen-year-olds—smart enough to know that first love almost never lasts, but brave and desperate enough to try.
Limited collector's edition of Eleanor & Park features a new jacket, an exclusive Q&A with author Rainbow Rowell, and several stunning pieces of fan art.
---

Rainbow, Rainbow, Rainbow. She always knows which heartstrings to pull. Aaah, going into this book, I knew I would love it and hold it dear to my heart forever.
I'm usually nonchalant towards YA contemporary romances, bur not with Eleanor & Park. I felt giddy and I had butterflies whilst reading. Their love really felt like true love. It was completely innocent, and Park is such a unique "male" main character in a YA contemporary. He wasn't manipulative or assertive or sexist, and it was so refreshing to experience that.
Eleanor is an angel. She's so innocent, and she doesn't deserve everything bad that happened to her. Throughout the book I just wanted to shield her from the world and protect her from harm. I'm so happy she has Park (SN:I'm not saying you need a boy to make you feel better or valid).
Eleanor & Park is a book that explores overcoming those, sometimes awkward, teenage years while dealing with falling in love, divorce, abusive relationships, and multi cultural relationships. It talks about how hard these times can be and how much you can struggle, but overcoming it can be rewarding. Rainbow Rowell isn't afraid to tell it like it is and I admire that.
I hope you all get a chance to read Eleanor & Park and enjoy it as much as I did. I can't believe it took me this long.
Until next time,